Attractive, Smooth and Strong
15% off for 10 Plus Pairs
 For non Sewers-
All you need is a pair of rings and a length of fabric,and you will have all you need for a safe 'no sew' ring sling . In fact , you can have a different sling for each day of the week,with just one pair !!
Brilliant step by step instructions on Youtube etc.
 For Beginner and Expert Sewers alike -
There are plenty of FREE ring sling patterns available on the internet,no need to buy one.
A variety of colours are available.
Wholesale - Contact Us
We also sell in larger quantities  to businesses. 
WHOLESALE SHIPPING FREE FOR 100 PAIRS + WITHIN THE U.K 
Please feel free to leave a review.We have been selling all over the world for over 10 years now,with thousands of happy customers.
It is only now that I have managed to work out how to add the app that allows reviews :)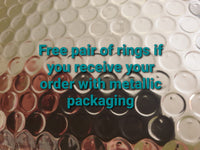 Free Rings
Just contact us with a photo of the packaging with the date,and let us know your choice of rings.Just pay for the shipping.
Customers will be chosen at random.Good luck !!